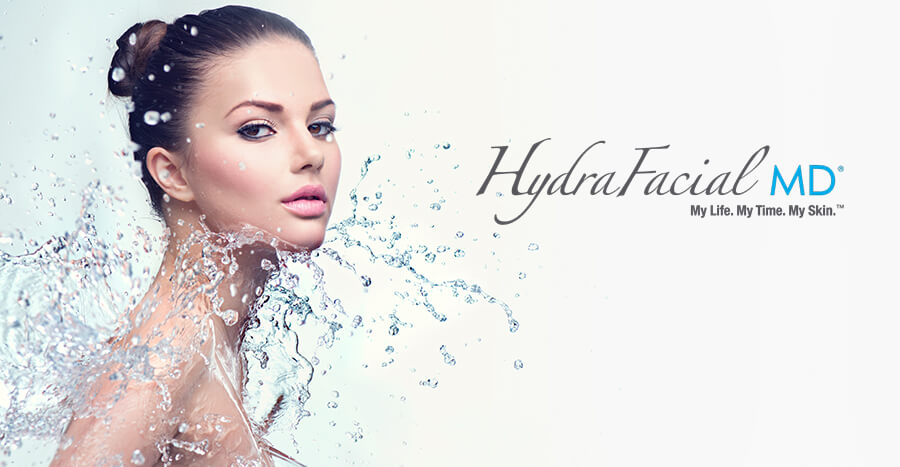 The Customizable HydraFacial MD® treatment can be tailored to safely & effectively address your specific skin concerns. Our targeted problem/solution protocols were developed to help mitigate some of the most universal skin concerns, but our licensed aestheticians can always further tailor your treatment to make it most exacting to your unique needs. Your skin isn't like everyone else's and your treatment shouldn't have to be either.
Skin Health for Life™ is not just improving your appearance, but actually restoring youthful, healthy skin. Skin Health is a lifestyle, requiring monthly maintenance and the right treatment for every skin type. That treatment is the HydraFacial MD®.
The HydraFacial MD® treatment merges soothing and invigorating spa therapies with advanced medical technology to achieve instant, lasting results.
We take this treatment to the next level by completely customizing it from start to finish, depending on your specific needs. A Customized HydraFacial MD®can treat and maintain a variety of skin conditions, mild to severe, using different types and levels of chemical peels, products and serums along with a technique specific to giving you the best result possible!
Each treatment uses a series of patented HydroPeel® tips- each one has multiple abrasive edges to exfoliate the skin several times each pass, achieving better, more even results. The unique spiral design creates a vortex effect to easily dislodge and remove impurities while simultaneously introducing hydrating skin solutions and potent antioxidants.
If you have had Microdermabrasion before, this treatment will replace it within one visit! HydraFacial MD® is nourishing the skin as we exfoliate, unlike microdermabrasion that simply exfoliates dryly and possibly breaking blood vessels by the intense suction and outdated tip.
YOUR SKIN is the largest organ of your body.
Every day, your skin is exposed to free radicals – unstable molecules like pollution, sun and stress which damage the vital skin cells like collagen and elastin that keep you looking fresh and young.
One of the most damaging free radicals is the sun's rays. UVA rays have the same strength, every day, all year long.
Antioxidants counteract free radical damage by trapping and containing them, preventing further damage to skin cells.
The HydraFacial MD® utilizes some of the most powerful antioxidants to revitalize and protect your skin.
The Process
Dermaplaning (optional) – Performed with a scalpel blade and can be combined with a chemical peel and/or facial. This procedure can improve the appearance and texture of the skin. The blade is used to remove the dead surface skin and hair.
Cleansing and exfoliation– Dead skin cells are removed to reveal healthy new skin.
Acid peel– This mild to moderate peel helps to loosen dirt and debris from the pores without irritation and can be increased in multiple treatments for a more results-oriented treatment.
Extractions– Painless, automated extractions use vortex suction to clean out pores.
You will leave us feeling smooth and fresh, glowing, with beautiful skin, with the inspiration to continue to take care of your skin, with our help!
HYDRAFACIAL SPECIALS MENU
DELUXE HYDRAFACIAL™
•DERMAPLANING •CLEANSE + PEEL •EXTRACT + HYDRATE •FUSE + PROTECT •CUSTOM MEDICAL GRADE BOOSTER •AGELESS PLANT STEM CELL&PEPTIDE MASK •CUSTOM EYE TREATMENT
---
PLATINUM HYDRAFACIAL™
•DERMAPLANING •CLEANSE + PEEL •EXTRACT + HYDRATE •FUSE + PROTECT •CUSTOM MEDICAL GRADE BOOSTER •AGELESS PLANT STEM CELL&PEPTIDE MASK •CUSTOM EYE TREATMENT •LYMPHATIC DRAINAGE FOR INCREASED •CIRCULATION & REDUCTION OF PUFFINESS
---
ROZARTOL® BOOSTER SERUM
POWERED BY ZO® SKIN HEALTH
RADIANCE + REJUVENATE
Customized to relieve the visible signs of red, sensitized skin. This treatment deeply cleanses, extracts, and hydrates the skin, utilizing super serums filled with antioxidants, peptides, and hyaluronic acid. Great for Rosacea!
---
*Each facial is customized. It can include or exclude any of the above
---
HYDRAGLUCAN® INTENSE HYDRATION BOOSTER
POWERED BY DR. PAUL NASSIF MD®
(AS SEEN ON BOTCHED)
REPAIR + HYDRATE
This proprietary cocktail of ingredients, including hyaluronic acid, glucan, and betaine will hydrate, repair, rejuvenate, and protect your skin, while restoring plumpness, radiance, and addressing the signs of aging.
---
TRIHEX – PRO SKIN BOOSTER SERUM
POWERED BY ALASTIN SKINCARE®
CALM + SOOTHE
A proprietary blend of active peptides and botanticals specifically engineered to work with the skin to clear out aged collagen and elastin proteins that have been damaged by sun exposure and aging, while helping to support the skin's natural ability to produce new collagen and elastin over time. This improves the appearance of fine line and wrinkles for younger looking, supple skin.
---
COLORESCIENCE® ULTRA BOOST TOTAL EYE HYDROGEL TREATMENT
Infused with powerful ingredients to provide intense hydration and will aid in minimizing the appearance of dark circles, puffiness, fine lines, and wrinkles, while delivering long-term results to restore the eye area! This quick treatment is also available to be done in the comfort of your own home!
---
HYDRAFACIAL PERK LIP & EYE SERUM
HYDRAFACIAL PERK EYE brightens and refreshes the outer eye area with natural ingredients such as horse chestnut seed extract and arnica flower extract, leaving the area hydrated, toned, and brightened. The HYDRAFACIAL PERK LIP revitalizes your lips with key ingredients like peppermint oil and peony extract, leaving your lips refreshed, hydrated and lightly plumped.